In the rapidly advancing digital world, an online form builder must do more than merely collect data. It needs to offer customization, flexibility, and a user-friendly experience. Google Forms has been a reliable player in this field, but as we move further into 2023, there's a need for more innovative solutions. That's where we at Nerdy Form step in.
As a small, dedicated company, we've developed an innovative form builder application trusted by thousands of websites worldwide. Our commitment to quality and reliability is unwavering, reflected in our best development practices and partnerships with leading companies like Digital Ocean and Sendgrid to store and transmit data.
Let's take a journey to understand why Nerdy Form is considered the top Google Forms alternative this year.
1. Unveiling Your Forms in Style: Pop-up Forms with Customizable Buttons
One innovative feature we are proud of at Nerdy Form is the option to create pop-up forms. The real charm comes from the ability to add a customizable button on any page, which, when clicked, opens up the form. This seamless user experience can enhance engagement rates significantly.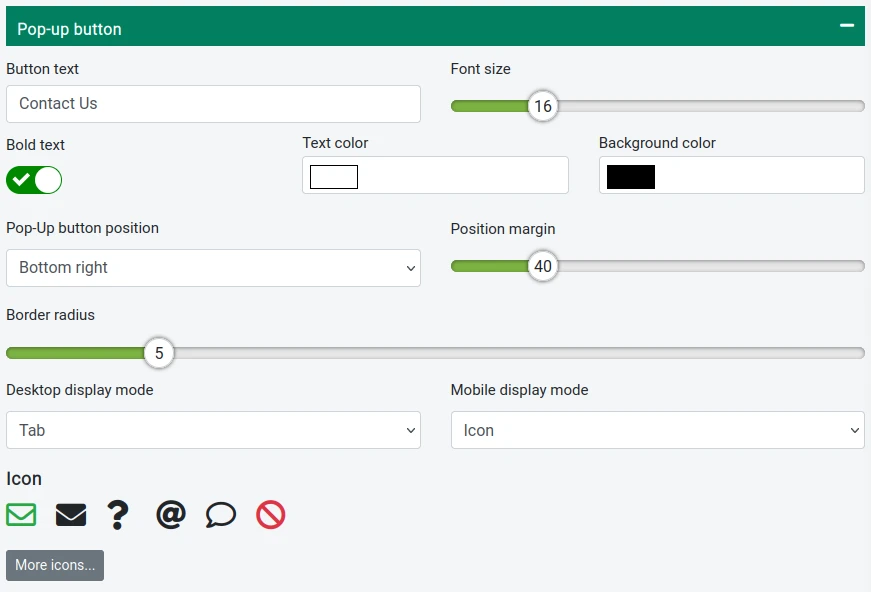 Moreover, our forms can be set to appear after a specific timeout. This means your audience can access the form when they're most likely ready to engage, maximizing the effectiveness of your data collection strategy.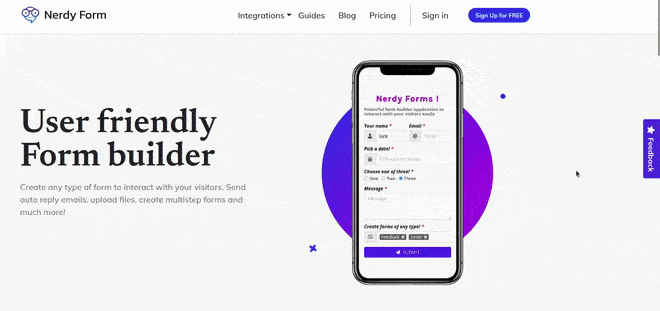 2. Offering Personalized Touch: Autoresponder Emails
We believe in fostering a deeper connection with the audience. Our built-in feature that allows sending personalized autoresponder emails enhances user experience and interaction. This doesn't require any additional plugin, as is the case with Google Forms.
3. Catering to Every Need: Advanced Field Types
We recognize the importance of form customization and have developed a range of field types for all your needs. Our datepicker feature stands out, allowing you to select dates, specify date formats per region, and even restrict dates. We've also integrated a countdown timer that can be directly added to your forms.
4. Making it Easy: User-Friendly File Upload Feature
At Nerdy Form, we prioritize ease of use. Our file upload feature doesn't require users to sign-up, unlike Google Forms. By removing barriers, we make it easier for your audience to engage and reduce form abandonment rates.
5. Here for You: Responsive Email Support
Customer support is at the heart of our operations. We offer email support, even on our free plan, and strive to respond within 24 hours. We're here to help you when you need us most.
6. Seamless Integration: Extensive Design Customizations
We allow extensive design customizations to ensure your form fits seamlessly into your website.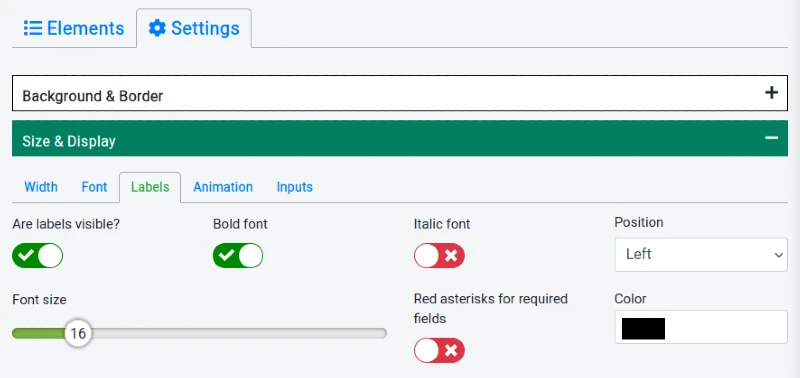 This makes each form feel like an integral part of your website rather than an external addition.
7. Connect with Ease: Wide Range of Integrations
We've made data management effortless with our out-of-the-box integrations, such as Mailchimp. Nerdy Form's integration with Zapier opens up possibilities with almost any software. We can also send a webhook to your own backend, increasing flexibility.
8. Consistency is Key: Customizable Email Templates
We understand the importance of brand consistency. That's why we provide customizable email templates, helping you maintain your brand's voice across all communications.
9. Guiding Your Audience: Visitor Redirection After Form Submission
One of our standout features is the ability to redirect visitors after a form submission. This can guide your audience to specific content, promotions, or a simple thank you message, enhancing user experience.
10. Committed to Accessibility: Free for Most, Fair Pricing for Premium
Like Google Forms, most of our users enjoy Nerdy Form for free. For advanced features, we offer some of the best pricing on the market, with no need for additional add-ons.
11. Collaboration at the Core: Open to Your Suggestions
At Nerdy Form, we embrace collaboration and are open to feature requests specific to your needs. Especially when these changes could benefit other users, we are always excited to hear from our community.
In conclusion, Nerdy Form is more than just an alternative to Google Forms; it's a superior choice for businesses seeking an advanced, user-friendly, and customizable form builder. With our robust features, responsive support, and competitive pricing, we invite you to experience the Nerdy Form difference.
Google Forms Alternative FAQ
Yes, Nerdy Form is free for creating up to 10 forms and processing 100 submissions per month. This is more than sufficient for most users. All features, including conditional logic and multiple step forms, are available on the free plan.
Absolutely, all forms created with Nerdy Form are optimized for mobile. This means they look great and work seamlessly on all devices, ensuring an excellent user experience regardless of screen size or device type.
At Nerdy Form, we prioritize the security and privacy of our users. We use the HTTPS protocol for all form submissions, employ modern hashing algorithms for password protection, and have strict measures to prevent SQL injections. We also integrate Google reCAPTCHA to protect against spam bots and conduct daily backups of all data. In compliance with GDPR, we ensure full control over your personal information. Our trusted third-party partners handle all payment transactions, meaning we do not store any sensitive card information on our servers.